If you have GPS data in latitude and longitude coordinates, you can visualize it by creating a map. Mapize has user-friendly tools to create custom Google Maps to put your data on display. Locate your travels north, south, east, or west through points on a map. Navigate your favorite places according to your current location. There are many uses for Google Maps made with Mapize.
You don't need to convert your GPS location data into actual addresses to use our tools to generate a map. Mapize supports a wide range of data formats to map multiple coordinates. Use a latitude and longitude finder to gather your data into a spreadsheet, then follow along to learn how to map using latitude and longitude with Mapize's user-friendly tools. All you need is your browser and GPS coordinates to get started.
How To Map Using Latitude and Longitude Coordinates in 10 Steps
Learning how to map using latitude and longitude is straightforward with Mapize. Just follow the ten steps below to plot latitude and longitude points:
Copy the GPS data from a spreadsheet: The lat long points can be in separate or the same column, separated by a comma. Using separate columns, always keep latitude in the left column and longitude in the right.
Go to Mapize.com. Click into the box on the right. Then, either select all and paste your data inside, or select all and delete the sample data before pasting your columns.
Click "Create Map."
You will be taken to the Geocoding section: Choose the appropriate fields for your GPS data, i.e., latitude coordinates and longitude points. In the address field, select a column name to be featured for this location.
Customize to your liking with different options for map pins, pin colors, and the overall look of your map. Create heat maps or cluster maps with ease.
Click "Map Now."
Click "Save Map & Continue."
Select how you want to save it: Public, unlisted, or password-protected. Password protect your maps when you sign up for a Pro or Pro+ Mapize account.
Input your map title and email address, and add optional notes or descriptions.
Click "Save Map."
Mapize creates a URL when you save. Hang onto this, or find it later in the email inbox of the address you entered in Step 8. You'll also see a button directly taking you to view the finished product. Share this link with others or embed your Mapize map into your website.
And that's it! You've created a map using latitude and longitude. Mapize works on desktop browsers and mobile devices. Whether you have an iOS or Android device, you can find coordinates and create maps using these parameters.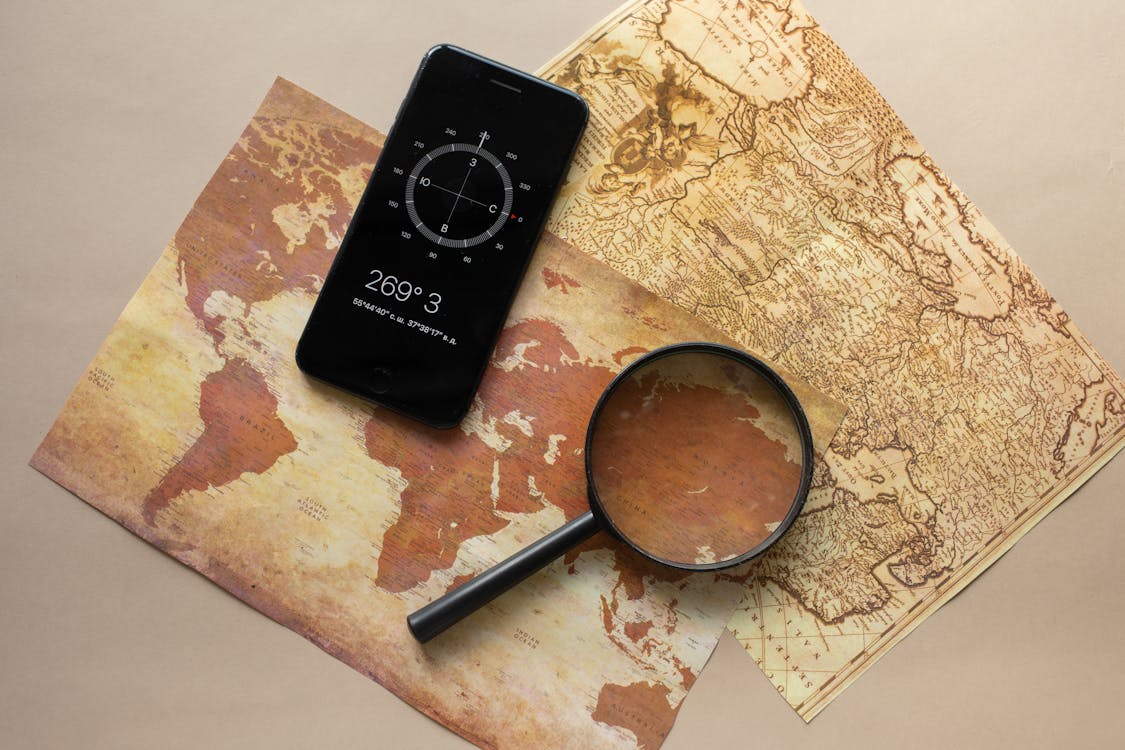 Use GPS Coordinates in Various Formats
Use a latitude and longitude finder like Google Maps to search for GPS coordinates, or take map coordinates you already have saved to map longitude and latitude. Whatever the format, Mapize can map geographical coordinates for you. Let's break down the most common formats you will see using a coordinates finder.
Map Using Latitude And Longitude In Decimal Degrees (DD)
Decimal degrees are the most common format of latitude and longitude points. The data values may be positive or negative, depending on their global location.
They look like this example:
Decimal degrees: 48.858347, 2.294479
Coordinates are listed with the lat first and the long second. You can directly copy and paste this GPS coordinates data into Mapize's tool. Use either two separate columns labeled for lat long accordingly. Or, add both to one column labeled "Location" and keep a comma between both points.
Map Using Latitude And Longitude In Degrees, Minutes, and Seconds (DMS)
Latitudes and longitudes may also be formatted as degrees, minutes, and seconds. They look like this:
Directional degrees, minutes, and seconds: 40° 26′ 46″ N, 79° 58′ 56″ W
Directional degrees and decimal minutes: 40° 26.767′ N, 79° 58.933′ W
This type of point can be written in either positive or negative values. Mapize can easily convert your GPS coordinates into a map, whatever the coordinate data displayed. As with DD, enter coordinates in two separate columns or in one column with the points separated by a comma. Our algorithms will handle the conversion and geocoding when you map using latitude and longitude.
Use Mapize To Create a Map Using Latitude and Longitude
Mapize is more than just a map creator with pins. Use our radius mapping tool to draw proximity radius circles around your coordinates and calculate distance. Generate heat maps and cluster maps to enhance the overall visibility of your data. Take advantage of routing optimization to find the fastest route between points using various means of transportation.
Now that you know how to map latitude and longitude GPS coordinates, what are you waiting for? Try Mapize for free and create a map using latitude and longitude today!